Review
Just as the Young Adult edition I preferred this one to the last. A diverse mix of excerpts with the possibility to request many of the books on Netgalley. Many books looked appealing, but I'm limiting myself here to showing the books I've since been able to get a review copy of.
A rich and utterly absorbing novel about the life of King David, from the Pulitzer Prize–winning author of People of the Book and March

With more than two million copies of her novels sold, New York Times bestselling author Geraldine Brooks has achieved both popular and critical acclaim. Now, Brooks takes on one of literature's richest and most enigmatic figures: a man who shimmers between history and legend. Peeling away the myth to bring David to life in Second Iron Age Israel, Brooks traces the arc of his journey from obscurity to fame, from shepherd to soldier, from hero to traitor, from beloved king to murderous despot and into his remorseful and diminished dotage.

The Secret Chord provides new context for some of the best-known episodes of David's life while also focusing on others, even more remarkable and emotionally intense, that have been neglected. We see David through the eyes of those who love him or fear him—from the prophet Natan, voice of his conscience, to his wives Mikal, Avigail, and Batsheva, and finally to Solomon, the late-born son who redeems his Lear-like old age. Brooks has an uncanny ability to hear and transform characters from history, and this beautifully written, unvarnished saga of faith, desire, family, ambition, betrayal, and power will enthrall her many fans.
From the award-winning, New York Times bestselling author of The Monsters of Templeton and Arcadia, an exhilarating novel about marriage, creativity, art, and perception.

Fates and Furies is a literary masterpiece that defies expectation. A dazzling examination of a marriage, it is also a portrait of creative partnership written by one of the best writers of her generation.

Every story has two sides. Every relationship has two perspectives. And sometimes, it turns out, the key to a great marriage is not its truths but its secrets. At the core of this rich, expansive, layered novel, Lauren Groff presents the story of one such marriage over the course of twenty-four years.

At age twenty-two, Lotto and Mathilde are tall, glamorous, madly in love, and destined for greatness. A decade later, their marriage is still the envy of their friends, but with an electric thrill we understand that things are even more complicated and remarkable than they have seemed. With stunning revelations and multiple threads, and in prose that is vibrantly alive and original, Groff delivers a deeply satisfying novel about love, art, creativity, and power that is unlike anything that has come before it. Profound, surprising, propulsive, and emotionally riveting, it stirs both the mind and the heart.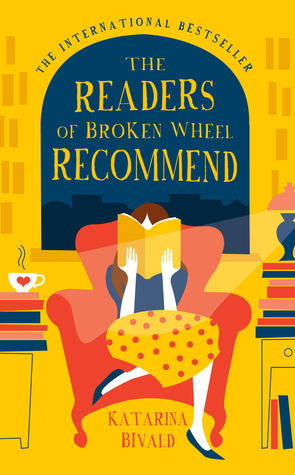 The International Bestseller

Warning: once you let books into your life, the most unexpected things can happen…

This is a book about books. All sorts of books, from Little Women and Harry Potter to Jodi Picoult and Jane Austen, from to Stieg Larsson to Joyce Carol Oates to Proust. It's about the joy and pleasure of books, about learning from and escaping into them, and possibly even hiding behind them. It's about whether or not books are better than real life.

It's also a book about a Swedish girl called Sara, her elderly American penfriend Amy and what happens when you land a very different kind of bookshop in the middle of a town so broken it's almost beyond repair.

Or is it?

The Readers of Broken Wheel has touches of 84 Charing Cross Road, The Guernsey Literary and Potato Peel Pie Society and Chocolat, but adds an off-beat originality and intelligence all its own.